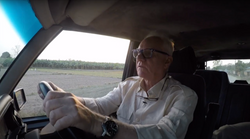 Kobold Expedition Tools
The Adventures of Maiko McDonald
Preview of the 90-minute documentary film about Hollywood actor and Koboldian Malcolm McDowell exploring Nepal in a vintage Range Rover.

Malcolm McDowell visits Nepal and is accompanied by legendary Bollywood actress Manisha Koirala on an overland reconnaissance expedition in a vintage Range Rover. Together, the two actors discover Nepal's rich cultural and natural diversity.

Wherever Malcolm McDowell travels around the world, people often find it difficult to pronounce his first and last name, hence he is simply known as Maiko McDonald.